Healthy Choice Family Chiropractic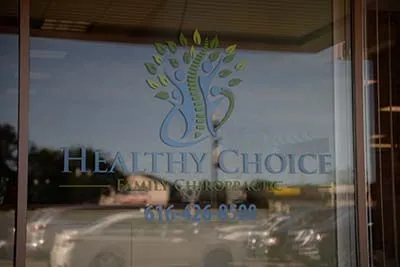 At Healthy Choice Family Chiropractic, we want to help you live a happy, healthy life. Chiropractic care can help alleviate pain, allow your body to heal after an injury, and much more. Our chiropractors have years of experience in treating a variety of health conditions. We are focused on addressing your unique bodily needs to improve your overall health. Our facility serves patients in Hudsonville, Jenison, and Georgetown Township, MI. Our team is committed to helping you achieve your everyday wellness goals.
Our Chiropractic Services and Techniques
At Healthy Choice Family Chiropractic, we offer the finest chiropractic care services, including:
Chiropractic Care: Involves spinal correction and chiropractic adjustments using state-of-the-art chiropractic techniques. These can be manual and instrument-assisted.
Corrective Exercises: We train our patients to perform specific exercises that can help to strengthen and correct any irregularities in their bodies.
Lifestyle Advice: We offer advisory services to our patients geared towards achieving a healthier lifestyle.
Nutritional Counseling: Our experts provide helpful recommendations on nutritional supplements, food safety, and healthy food choices.
Massage Therapy: Our licensed chiropractor provides specific massage and muscular therapy tailored to meet the patient's wellness needs.
Spinal & Postural Screenings: Our chiropractor carries out screenings diligently to determine the root cause of your pains and discomfort.
At Healthy Choice Family Chiropractic, we can explain how chiropractic care works. We will give you a complete evaluation and diagnosis of your condition. Then, we will create a personalized treatment plan for you and your condition. This may include one or a combination of our chiropractic techniques. We know that every patient is different, so we will work with you to meet your needs. You will likely need several sessions with our chiropractors to get long-lasting results.
Pediatric and Prenatal Chiropractic Care
We take great pride in providing quality pediatric chiropractic treatment to infants. Many newborns are highly fussy, some develop ear pain and infections, and others have trouble sleeping comfortably through the night. We are aware of these problems, and our pediatric chiropractor can help. We can apply gentle massages and adjustments to help your child's body function properly and avoid pain. This may also help newborns sleep better and have overall better growth.
Additionally, we offer prenatal chiropractic care. Our prenatal chiropractor is experienced in providing massage therapy to ensure muscle relaxation and improve blood circulation in pregnant mothers. Massages can help to relieve muscle pain, improve blood flow, reduce inflammation, and increase your range of motion. Our chiropractor can also offer spinal adjustments to alleviate back pain. Ensuring that the spine is properly aligned helps avoid tension and pressure in the back during pregnancy.
Schedule an Appointment with Our Chiropractor
At Healthy Choice Family Chiropractic, we are here to help. We serve patients in Hudsonville, Georgetown Township, and Jenison, MI. Our goal is to help our patients heal and recover so they can reach full-body wellness. Our individualized approach allows us to meet the needs of all our patients. All of our treatments are safe, drug-free, and non-invasive. Our team of experts is more than happy to answer any questions you have. To learn more or to schedule an appointment with our chiropractor, call us today.